PETRATOURS-LESVOS.com
a b o u t p e t r a t o w n
This charming, friendly, traditional village with its beautiful, sandy beach is set in a lush, green valley against a backdrop of mountains on the north coast of Lesvos.
Dominated by its famous, picturesque church, perched 40 metres above the rooftops on a huge rocky outcrop in the centre of the village, Petra is a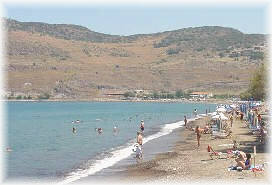 year-round working village. Its traditional way of life still flourishes with fishermen busy on the harbour and farmers chatting noisily over their morning coffee in the bustling village square.
Pretty, cobbled streets of small, immaculately clean houses open on to shady squares and wider streets of well-preserved neo-Classical mansions set in large gardens - all overflowing with the summer scents of jasmine and bourganvillia.
The little shopping streets open out on to the lively main square on the seafront where, in summer, you can enjoy breakfast in the morning sun or spend warm evenings in the pavement cafes and tavernas.

The village is enjoying a growing popularity with tourists -many returning every year - so there are modern amenities available as well as well-stocked shops.

Location. Petra is on the north coast of Lesvos in the North Aegean, fifty-five kms from the capital town and airport of Mitilyne (about one hour 15 mins by car, taxi or bus)

The Beach is long, sandy and safe for children. In the award-winning, clear, blue waters of the bay there are three small islands which can be visited by boat. They are official nature reserves and serve as a paradise for scores of different species of birds and small wildlife. The beach has basic watersports available.

Nightlife centres along the coast road and the village square which boasts a superb view of the sunset over the sea. A variety of restaurants and tavernas, offering traditional Greek and European dishes, sit side by side with cafes and patisseries where coffee, cakes and alcoholic drinks are served. Greeks often eat quite late during high summer and it is not unusual for a family to arrive at 11pm to order their supper. Later, there are some bar/nightclubs with European and Greek music and dancing.

Facilities include Bank, Post Office, Police station, 24-hour doctor service, Chemist, Physiotherapy clinic, Health food shop, Vet, Supermarkets, Bus service, Taxi rank, Harbour, Car, motorbike, scooter and bicycle hire.

Local Produce. When Greek mainlanders come to Lesvos they never leave without buying the island's olive oil and ouzo (reputed to be amongst the tastiest and best in the country). Petra has its own famous ouzo factory, established in 1884, as well as an olive oil press where packaged virgin olive oil and hand-made food products from all over the island - such as cheese, olives and sun-dried fruit and vegetables - can be bought. Locally carved olive wood is also available as well as other examples of Greek craftsmanship including ceramics, hand-made linen and lace.

History. As solid as the 'rock' after which it is named, Petra has been mentioned in the history books since ancient times. Later, it withstood over four hundred years of Turkish occupation (1462 - 1912), plundering by French pirates who stole 500 young men and women (1676), and looting by Turkish-Albanian robbers who took away all the gold, silver and silk they found (1865). Earlier, in 1823, people from Psara attempted to start a revolution against the Turkish occupiers which resulted in terrible retribution for the residents of Petra -the "Troubles" as they were called. Beatings, looting, kidnapping and murder took their terrible toll on the innocent citizens. Lesvos was finally liberated from Turkish rule in December 1912 but not before the fleeing soldiers doused the village in oil and set fire to it.


THINGS TO SEE IN PETRA

The church of Our Lady of the Sweet Kisses
As you approach Petra by road or boat, the first thing to catch your eye will be the
unusual village church perched 40 metres above the rooftops on a huge rock. On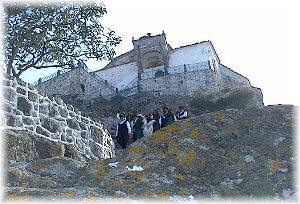 Easter Saturday night, its 114 steps carved down the rockface are covered with worshippers holding lit candles - a moving procession of light. Legend has it that, around 1600, a god-fearing sea captain went to light a candle to the icon of the Virgin Mary on board his ship and found it had mysteriously disappeared. He went up on deck to see a strange glow on top of a large rock on the nearby land. He went ashore, found the icon on the rock and took it back to his ship.The same thing happened the next day and he realised that the rock had been chosen as a home for the Virgin Mary. The first church on the site was built soon afterwards.

Valeretzidaina's House
Set in the middle of the village, this well-preserved mansion, which dates from the turn of the eighteenth-nineteenth century, houses some very attractive wall paintings. A striking example of the secular architecture of Lesvos during the late Ottoman rule, it combines local and Oriental features with neo-Classicism, Byzantine architecture and baroque. Open to visitors daily, it gives a fascinating insight into the culture and day to day living arrangements of the period.

The church of St. Nicholas
Set back from the village square, near the Post Office, this small, atmospheric church boasts some beautiful wall paintings the earliest of which is thought to date back to the 16th century. The painter, Nikolaos Fitzis, embellished the church in 1721 and it was restored in 1937.


PLACES TO VISIT NEAR PETRA

Avlaki
Hidden away at the end of Petra beach, this delightful little cove with its
own small harbour has a sandy beach (safe for children) and three traditional restaurants. Perfect for romantic suppers at sunset (within walking distance of Petra).

Petri
This small, quiet, mountain village overlooking Petra is a pleasant three-kilometre walk or taxi ride away. Just before the village, there is a small road leading to drinking water springs which are said to be rich in minerals. This area is named after Achilles who, according to legend, anchored his warships there on his voyage to Troy. It is believed that during pre-Christian times, the sea actually covered the village of Petra. Village Festival: July 7

Anaxos
Originally the area where residents of Skoutaros had their summer dwellings, this peaceful settlement, four kilometres outside Petra, has seen many changes due to tourist development. Its long, sandy beach makes it very popular with families. However, it still retains its sleepy, summer atmosphere despite a good variety of tavernas and cafes. A 30-minute cliff walk (or a ten-minute drive) will take you to Ambelia, a long, quiet sandy beach set in a wide, green valley with one family-run taverna.

Molyvos
An attractive five-kilometre walk along the coast road brings you to this pretty village set on the side of a hill and crowned by the remains of a Genoese castle. A perfect evening out would be to explore its steep, cobbled, shopping streets before strolling down to the harbour for a supper of fresh fish. (Bus and taxi rank)

Eftalou
Five kilometres further along the coast from Molyvos, this pebble beach with lava rock formations is ideal for snorkelling and swimming. It is also the site of one of the island's natural hot springs, rich in minerals and used by the Greeks for its healing qualities.The bath house is open to the public.

Naturist Beaches
There are various beaches in the Petra area where nude sun-bathing is common. Molyvos has a long, wide sweeping bay and, at the furthest end away from the village, where it is very quiet, sandy and secluded, naturists can enjoy the sun and sea uninterrupted. Eftalou has many coves and longer beaches. If you walk along the pebble beach after the hot springs, past the first four coves, you will find the beaches where naturism is popular.

Gays and Lesbians
Eressos - the birthplace of Sapho, the poetess of ancient times who also had her school in the area - has become something of a place of pilgrimage for lesbians and has been the home of Lesbian Festivals in the past. Gays have also found Molyvos and Eftalou peaceful and attractive places to enjoy on holiday.